Written By: Peggy Higgins - Top That! Cake Designs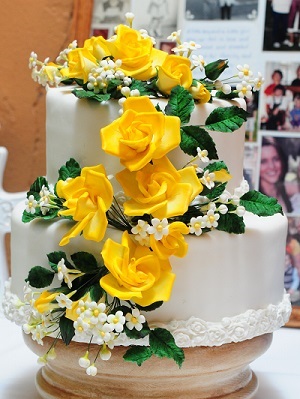 There is an idea running around, probably inspired by an article written by people who think they know, that you can haggle with your wedding cake decorator for a lower price. Not only that you can, but that you should. This is simply not true. Thanks to shows on the food networks, wedding cake decorating has finally been elevated to an art form. You wouldn't walk into an art gallery and haggle with an artist over an original work. You don't go into your hairstylist and ask them to discount their work. Please don't do that to your cake decorator.
Those of us who are dedicated to our craft spend numerous hours in continuous training so that we can provide our clients with the latest and greatest. Many of us have developed our own techniques and styles in cake decorating as well. As a bride, you are looking for the person who can provide you with that fairy tale cake you've been dreaming about since you were old enough to understand the event called wedding. You don't want the same old thing that Susie Jones had for her wedding. You want a wedding cake that reflects your style and your personality.
When you find the perfect decorator, they are going to take every one of your ideas into consideration, as well as your budget, and give you that dream cake. This is one event where you don't want a cheap looking cake. You want a decorator who knows their stuff and has the best tasting cake, that also looks good, or a good looking cake that also tastes good. It's a win-win for you. You fell in love with their talent, so you know you're going to get what you are paying for.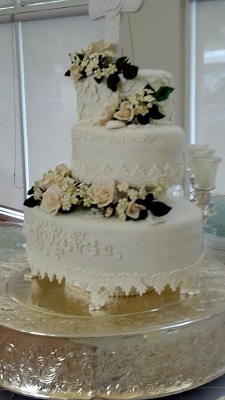 Having said all that, I'd also like to bring into the picture the home baker. In 2011, the Texas Legislature passed the cottage food law that changed the world for the home baker. Not only are they now legal, but they advertise, and you cannot tell them from the commercial bakers in most cases. So, when you call and your baker informs you that she operates from home, don't think of them as sub par. Don't compare them to the commercial bakers. And please don't expect them to discount your cake because they operate from home.
I am an award-winning and published cake decorator. I am also a home baker. My work can be compared to the professional bakers. I have spent numerous hours taking classes to improve my skills so I can provide my brides with dream cakes. I live and breathe your cake from its conception to its creation. I spend money to buy the best ingredients I can because I don't pay employees the commercial baker has to. I do deserve to have my time compensated for my job, just as you do at your job. The plus side to using a home baker is that your cake is always created by one person - the owner of the business, the person you spoke to about your cake, the decorator. There is no middle man.
I'm not going to say there aren't any bad home decorators out there. They exist. Thanks to social media though, you can find out what type of cakes your decorator creates and weed through the good, the bad, and the ugly. But if you find a decorator who happens to operate from their home, don't think that you are going to get less quality. Treat them with respect. They put in a lot of hours doing what they love.