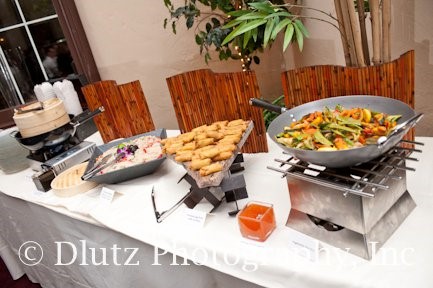 Wedding traditions evolve every day. While some still cling to the old-school train of thought that buffets are not as refined as plated dinners, they often sing a different tune when they see a wedding buffet done right.
The folks at Robert Ryan Catering & Design have been serving wedding guests for over 20 years. They have perfected the art of buffet or, as they call it, mini entree stations. This family-run business extends that personalized care and superb effort to each couple.
Some weddings are more suited to a plated affair, which Ryan Catering & Design does beautifully as well, for reasons of space or preference. However, if you are leaning toward a sit-down meal simply because of out-dated connotations, listen to what this industry expert has to say.
Q: Wedding buffets sometimes have a bad rap for being less refined. What can be done to make a reception with a buffet just as classy and sophisticated as its plated counterpart?
A. Because of this thinking we refer to buffets as "Mini Entree Stations." This means more choices but smaller portions. Instead of your guests getting the choice of chicken or steak months before the event, they could try our chicken, steak, shrimp, and pasta as the mood strikes.
Stations with exquisite décor and presentation can actually add to the sophisticated feel of an event, rather than detract from it. A station draped with luxurious fabric in your wedding colors, set with sparkling platters, and hot food expertly presented on griddles is very impressive.
Q: Have there been occasions when a couple was set on a plated meal but a buffet was a better option?
A: Yes. A plated menu can be more difficult to plan and pull off flawlessly for the couple. Aunt Joan is allergic to asparagus and cousin Jack is lactose intolerant. While we are happy to accommodate dietary concerns, the couple has to find out, track, and inform us of all these nuances. Taste preference is another concern. Our dishes are popular and well-received, but there may be someone who doesn't care for a seasoning or sauce. Sometimes they just feel like steak when they'd chosen chicken.
With so many choices a couple has to worry about in the course of their wedding preparations, mini entree stations can be so much easier. A selection of our many fabulous entrees allows them to cover all the bases with much less stress.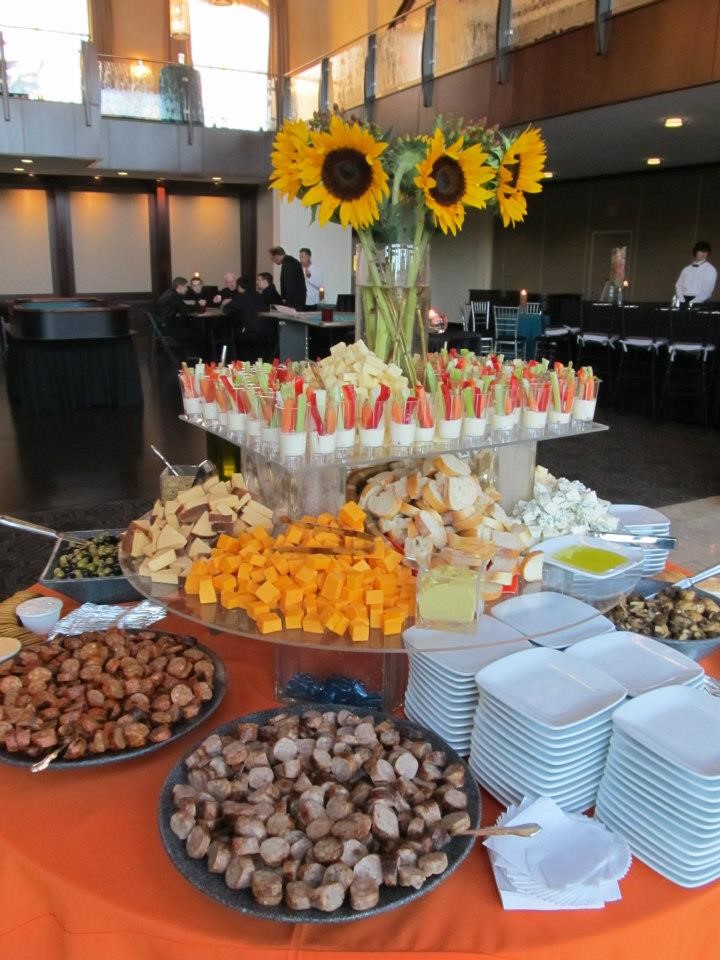 Q: Are certain venues or themes better suited for a wedding buffet style meal?
A: Yes. Absolutely. Venues with an open floor plan are definitely the best for Mini Entree Stations. Space helps keep lines moving and avoid congestion. If your guest list isn't huge though, even smaller spaces can work.
Q: How do you avoid pile ups at the buffet and serving stations?
A: At Ryan Robert Catering & Design we always make sure there is adequate service staff to answer questions, keep the line moving, and refill items as soon as they empty. We also make sure to place any items that require a lot of accompaniments at the end of the line.
Q. When it comes to buffets, what menu items work best/worst?
A: Best: Items displayed on a flat top griddle look extravagant and delicious! Our crabcakes, roasted vegetable tartlets, and risotto cakes are served this way and are always a big hit.
Worst: Any item that requires a lot of accompaniments and slow down the flow of the line, like mashed or baked potato bars.
Q. Ryan Robert Catering & Design offers years of experience and receives accolades consistently. What three things do you think have contributed most to your success?
A: Our reputation is the biggest contributor to our success. From day one we have striven to provide stellar service to each client. We are lucky to have happy clients who gush to anyone who will listen. We receive a lot of word of mouth referrals.
Of course our impeccable cuisine is a large part of the success of Ryan Roberts Catering & Design. We make it our priority to ensure we use only the freshest ingredients. We also constantly revise our menu to stay on top of trends.
Being a family business has also played an integral role in our success. We have a team that works well together; everyone does their part. We wouldn't be where we are without our family and the rest of our team, who we like to call our "extended family."
Thank you to Ryan Robert Catering & Design for provided insight into superior wedding buffets. If you'd like to learn more about them, visit their vendor profile here.