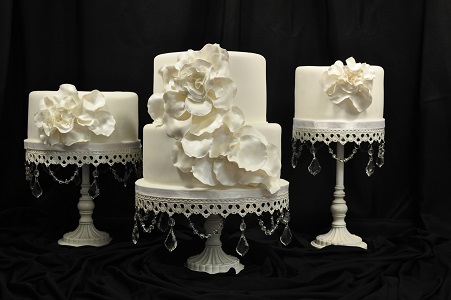 Selecting flavors and fillings is fun, if calorie-rich. When it comes to the look of your wedding cake it can get a little more complicated. Incorporating your wedding vibe, colors, and personality can be tricky, especially without ending up with a wedding cake that is too busy.
As with most things, when results are important it pays to consult with a talented professional. To help us share the best advice possible with our readers, we consulted with Wendy Baiamonte, owner and designer of Sweet Ideas The Cake Shoppe.
Wendy inherited her tools and passion for creating cakes from her mother. For years she has supplied happy couples with unique and beautiful wedding cakes that reflect their personality. Following is some of her insight to help you navigate your path to the perfect cake.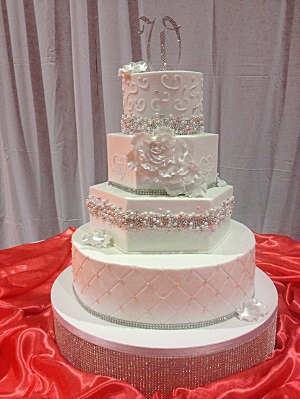 Q. With your years of experience, you are excellent at knowing which cakes appeal to couple – sometimes even better than themselves. What would you recommend for the following types of couples?

Classical and simple?
A. Smooth buttercream or fondant and shimmery pearls. Fresh flowes, specifically roses and lillies, always go well with a classic style. Less is more for this couple, she will not want a lot of fru-fru design. Stick with clean, simple lines on her cake. His cake is traditional chocolate monogram with some dipped strawberries.
Q. The modern couple, whose smartphones are ever present and who are always on top of current trends?
A. This couple will gravitate to what is currently in style. It is likely she has spent hours on sites like Pinterest and has strong ideas about what she wants. She will only want minimal changes to a cake she's already seen. Since current trends are popular with this couple, they'll like lacy, vintage, in season colors like shades of ombre, peacock, and neutrals. For the groom's cake, his favorite app on an iPhone or iPad, computer, or e-reader are popular choices.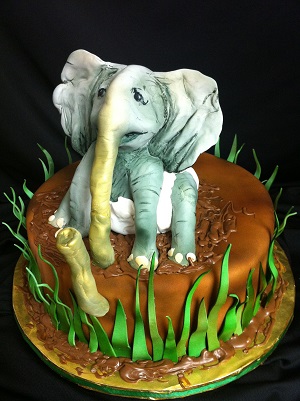 Q. The outspoken and exciting couple, whose primary concern is a different and festive party everybody talks about?
A. This couple will love a themed wedding: Alice in Wonderland, Halloween, etc. The cake would be Topsy Turvy or of multiple shapes. Nothing traditional. This is probably the most fun couple to work with a s I get to make/try different techniques that are not common on a wedding cake.
The groom's cake would definitely be something 3D, such as their dog, favorite car, or even a combination of his favorite things. Behind his cake will be a funny story known only to them.
Q. The balanced couple who blends elements of both the trendy and the traditional?
A. This wedding cake will have a mixture of shapes. They love classic round, but are also drawn to the unusual hexagon. We can do both! Classic touches such as pearls for the border but with a dash of bold color successfully incorporates both ends of the spectrum. Quiet, soft designs with a bit of bold for her. She will have done her research and know mostly what she wants while remaining open to new ideas and ready to change an element on the spot. His cake is apt to represent his hobby or his work. Something fun, but not over the top loud.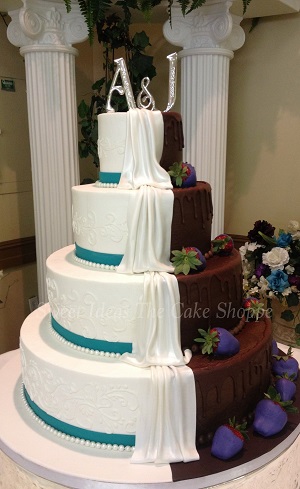 Q. When opposites attract how do you create a wedding cake pleasing to both members of a couple with distinctly different taste?
A. Usually we have to split the personalities into his and her cakes. Sometimes we can get both themes in one cake, but it is pretty rare. This is a situation in which we highly recommend a separate groom's cake.
Your wedding cake will be immortalized in your memory and photographs forever. More than simply being beautiful, it should be representative of who you are. Pairing up with a talented and insightful baker is the path to achieving this success.
Thank you so much to Wendy Baiamonte for sharing examples and tips to make your wedding cake stunning and personal. You can find out more about Wendy and her Sweet Ideas The Cake Shoppe here.