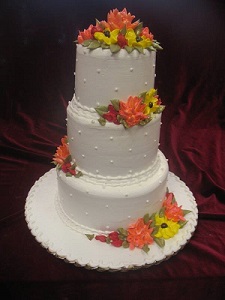 Without question, the wedding cake is an integral part of your reception. Your wedding cake will be memorialized forever in photographs and memories. While you may want your cake to match your décor or dress, it's most important that it match your personality.
Meet Tom Shipley of the Cake Gallery. To say his life has been a cake walk would not be metaphoric. At just 17 he began cleaning a bakery. His patience and precision was soon noticed and he became tasked with decorating complex cake designs. Over the years he worked side by side with some of the greatest names in pastry arts.
Now with his own shop, the Cake Gallery, he puts that innate talent and over thirty years of experience to good use. Tom is full of his own personality and I enjoyed our conversation. Here are some interesting insights about how your couple-personality might match best with cake selection.
With over 30 years experience, you must be excellent at deciphering which cakes will appeal to a couple. What would you recommend for the following types of couples?
Q. The classic and reserved couple, whose ceremony is understated and full of traditional elements?
A. I would suggest a straight, stacked cake for this couple. A very classic and tasteful design. Ivory and white with a simple swiss dot design and small clusters of flowers on top and around the sides. It definitely harkens to tradition without looking dated.
Q. What cake comes to mind for the modern couple? You know, the ones whose smart phones are ever-present and who always seem to be on top of current trends?
A. I would offer square layers with clean, straight lines and some brushed in flower designs. I might suggest working with their china pattern or room colors. Modern couples tend to gravitate toward simple lines, but also appreciate artistry in the details.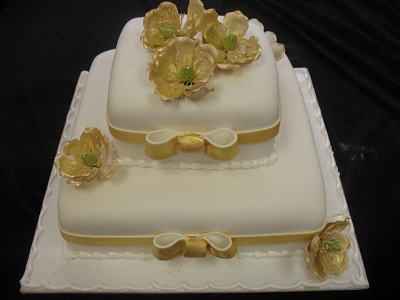 Q. What would you suggest for the jovial and boisterous couple, whose primary concern is a unique and raging party nobody will forget?
A. Game on! When anything goes, we have a great selection of unique and fun ideas on our website and Facebook page. From topsy turvy, science fiction, or even horror themes – you name it and we'll have a blast creating it for you.
Q. How about the balanced couple who incorporates a mix of trendy and traditional?
A. I would offer traditional wedding cake decorations like ruffles and bows and spice it up with some brightly colored flowers or a big, loopy bow on top.
If you'd like to see more designs to match your personality, visit Tom and crew at the Cake Gallery at their vendor profile here. Thanks Tom, for your insight and time!