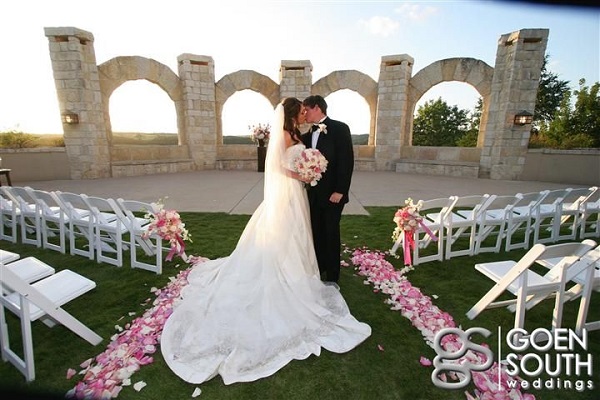 An outdoor wedding takes advantage of nature's splendor. Whether you're holding your ceremony in a romantic English garden, the treasured familiarity of your own backyard, or with the unrivaled backdrop of the vast, sparkling ocean, it's hard to beat the bounty provided naturally.
While going it alfresco has plenty of advantages, it also requires quite a bit of work to pull it off flawlessly. From lighting to restrooms, there's a lot to consider. We've collected tips from professionals to help guide you through your outdoor wedding.
Stake Your Claim
Casual or formal, tents can be found in all manner of materials and sizes. A good rental company will be able to advise you on which work best for grass, sand, and cement. Work with them to choose tenting that matches your style and venue.
Don't forget to think about the weather! If you're having a summer wedding, you'll want fans and maybe even portable air conditioners. For cooler months, opt for patio heaters, especially if your guests will be partying after the sun goes down.
The Delight is in the Details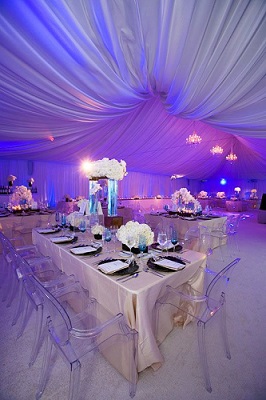 Think of your outdoor wedding tent as a blank canvas. To complete the look you'll want finishing touches. There are lots of options, such as fabric curtains and stunning tie backs, sparkling chandeliers, and outdoor carpet.
With any luck you won't be the one responsible for supervising the clean up after your wedding. You are responsible for making sure it is taken care of though. An outdoor wedding requires more time to tear down, so try to ensure the venue is rented for a few hours the morning after your event as well. Remember also to check what the return policies are – some places require glass to be washed before return and charge a fine if they are not. Work with your planner or Maid of Honor to be clear who is responsible for what and be sure such details are worked into the schedule.
Don't Bug Your Guests
Part of nature is bugs and insects. They just come with the territory. Nobody enjoys being bitten by mosquitoes or swatting flies at a nice event. Keep guests focused on enjoying the celebration by hiring an exterminator. Doing so a couple of days before your outdoor wedding will still keep the bugs at bay without heavy chemicals in the air. Peppering citronella candles throughout your venue also helps, and looks nice too!Light Right
If any part of your wedding will roll into the hours after the sun goes down, lighting is essential. Depending on your tent choice, lighting may also be necessary during the day. Lighting will help to set the desired mood, not to mention allowing guests to see one another. Outdoor weddings lend themselves to paper lanterns and twinkle lights, both romantic and festive. While it may be obvious that stately chandeliers look fantastic at a grand wedding, they can also cozy up a more intimate affair.
Don't forget to provide lighting along walkways. Luminaries along paths and surrounding common areas are both practical and charming. Small up-lights and mason jars with tea candles hanging from branches are fabulous ideas.
Don't forget the practical aspects. Make sure a qualified professional has given you the green light for your light. They will know if the provided set up is adequate or if you will need a generator as well.
When Nature Calls
You had better be able to answer! If restrooms are not nearby, or if there are only a few, consider renting portable solutions. If you're thinking those atrocities found at the fair when you were a kid, you will be pleased to know they have come a long way. Today, you can find portable loos that are quite luxurious. Some even offer amenities like music, granite counters, temperature control, and spacious models.
Planners often use a formula of one restroom stall for each 35 guests. This allows guests to spend more time dancing and less time in line. Consider an extra touch to keep them talking by adding fragrant flowers and luxurious soaps.
An outdoor wedding provides a gorgeous setting. Considering the tips above will go a long way in ensuring the focus stays on the couple and the venue rather than issues. Some forethought and legwork let the important factors shine by creating a seamless event.