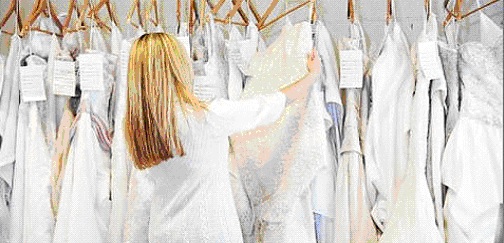 On her wedding day, every girl wants to be surrounded by her closest friends and family and wants to appear a unit. Having her close female friends and family friends there with her and attending to her is what every girl's needs and wants. It has become quite the tradition over the millennia and a wedding would be incomplete without the bridesmaids.
That being said, it can be quite a bit of stress deciding who are to be the bridesmaids, what should be the theme, how to get all of it done while planning your own wedding etc. So, to help along in the matter, I've put together a few tips that will make some of these decisions a bit easier.
Color:
It looks really nice when all your bridesmaids wear the same color and surround themselves around you (especially in pictures) making you stand out even more. But, deciding a color can be quite a different matter. Choose a color that you think will suit all the different skin tones of your bridesmaids. Not every color will suit your bridesmaid and might make them feel conscious. So, accommodate their needs and also consider your wedding theme and how the color of the dresses affects it.
Style:
You can coordinate your dress style with those of your bridesmaids. If you're opting for a ball gown dress then the bridesmaid dresses should complement that choice. Or you all can have matching belts albeit the brides dress belt is more sparkly and big. If you don't want to look the same then make sure the style you choose will look good on all your bridesmaids.
Length:
When deciding a dress for your bridesmaids, a key detail is the length of the dress. Not everyone wants to wear a mini skirt or a full length dress. Keep in mind the preferences of your bridesmaid and their comfort level. Just above or below the knee is a good compromise for all the bridesmaids I should think.
Size:
Not all your bridesmaids will be the same size and thus not all designs will look good on all of them. Keep a similar color but let them choose their own style of dress or choose a style that you know will look good on all of them. Make them try it on and see if they do in fact like it. A good option is an A-line dress as it looks good on any size.
Comfortable:
No matter what, make sure your bridesmaids are comfortable with what they are wearing. If they can't dance easily or feel uncomfortable with their dress, that will put them in a bad situation and as a result you yourself might get uncomfortable seeing their unhappiness.
Price:
Whether you're buying the dress for your bridesmaids or they are buying it themselves, keep a budget. You don't want them or yourself to spend too much money on a dress that they might not even wear again. Keep a budget that everyone can handle or that you can spare from the rest of the expenses of your wedding.
Small party:
It's better to have a small party of bridesmaids than a large one as a smaller one can be handled better and their needs and choices can be kept in mind. A larger party may be harder to please than a smaller one but if you just have to have more bridesmaids then don't leave the dress decisions on them or chaos will follow and you don't need the extra tension.
Reusable hues:
It is better to use colors and designs for the dress that the bridesmaid will be able to wear in the future so that the dress doesn't go to waste. More often than not, a bridesmaid dress will stay lock in the cupboard for ages because of its color or style.
Maid of honor:
Take your maid of honor with you first and get her to try various bridesmaids' dresses. Ask her opinion and take her advice on the dress scenario before asking your bridesmaids to try on any dresses.
Digital camera:
After trying fifteen or so dresses they all start to look the same. Bring a digital camera and document every dress so that you have a comparison and an easier time deciding on the right dress.
Your bridesmaids are your friends and they will wear whatever you ask them to but wouldn't it be so much better if they liked what they wore? Make your life and the lives your bridesmaids easier and choose the right dress.
About the Author:
Alan is a blogger and usually writes about Wedding and Event planning related topics. He also writes for Dress First, a brand that offers wedding and party dresses at affordable prices.