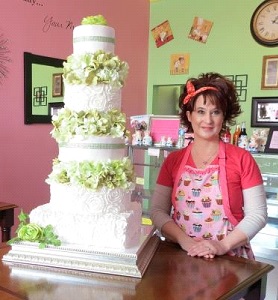 Getting married is exciting! Once we find ourselves deep into planning mode though it can be overwhelming, even tedious. One aspect of the big day in which even the specifics are fun, not to mention tasty, is picking out your wedding desserts.
Gone are the days when choices were limited to how many tiers you wanted. Couples today can choose from a dessert buffet, cupcakes, cakes, and the many variations of each. This may fall into that "sounds exciting, but becomes overwhelming" category – except we're talking delicious treats here ladies. Having to taste test eight different kinds of chocolate wedding cake isn't the worst problem in the world to have.
That said, the wedding dessert is still a big part of your special day and is due consideration as such. Tom and Samantha of Cakes Etc. graciously agreed to be interviewed, offering insider insight on how best to have your cake and eat it too.
Q. I LOVE that you've followed in your mother and grandmother's footsteps! As a third generation baker, what has been passed on to you that really sets Cakes Etc. apart?
A. "I believe as a third generation baker one of the most important things passed on to me by my mothr and grandmother is never to buy cheap ingredients just to save money. The most important thing as a baker is to begin with the best quality ingredients available on the market. If not, you often get what you pay for.
I also believe one must have passion for what they do. If you have that passion, if you love it, it really shows in the creations you make. They also taught me how important presentation is. In this business, it is vitally important to ensure everything not only tastes delicious but is visually delicious as well. From a very young age I was taught never just to set a wedding cake on a table, but to arrange it with tulle or material, fresh flowers or greens, fan out the napkins, and keep it classy."
Q. With all of your unique experience, what three pieces of advice would you offer brides choosing a wedding dessert?
A. "First, I'd have to say when selecting a wedding cake as a bride, you need to realize it's important to choose flavors that your guests will like, as well as your taste. Many time I have brides who do not want a certain flavor because they don't like it. It is important for a bride to remember she is not the only person who will be eating the cake on her special day.
"Second, at Cakes Etc. we offer "mingle cakes" which are individual cakes that sit at each table as a centerpiece. I sometimes encourage brides to go this route because they can select many flavors and eliminate the cost of a floral arrangement for each table, which can get quite pricy and are often thrown away. Mingle cakes get guests involved with each too, as it makes for conversation among tables about other flavors. Soon, people are trying cake at different tables and meeting new family and friends.
"Third, many times I encourage a bride who comes in wanting fondant to consider buttercream frosting instead. It simply tastes so much better. I let them know that, with my experience, I can apply frosting so smoothly it looks like fondant only tastes better and costs less."
Q: In addition to some of the most beautiful cakes I've seen, you also offer cupcakes in really interesting incantations. Which are some customer favorites?
A: "My customers' favorite cupcake seems to be the Sea Salt, which is a dark chocolate cake filled with caramel, topped with a caramel flavored buttercream, dipped in Heath toffee pieces, with caramel on top and a touch of sea salt. Customers also love the Almond Joy cupcake which is a dark chocolate cupcake filled with a coconut crème filling, topped with a coconut flavored buttercream, dipped in coconut, with a chocolate ganache on the top and finished with a chocolate cocoa almond. They love the Lady Baltimore as well. That is a white cupcake with raspberry filling, topped with raspberry flavored buttercream, and a chocolate nonpareil."
I had to take a moment to get my salivating under control before I could ask this next question.
Q: What are your personal favorites?
A: "As to my favorites, I don't really eat the cupcakes much. Usually, when I design a new flavor I have my husband, Tom, as the taste tester. His favorite is still the Sea Salt, with the Twinkie flavored cupcake a close second. Bottom line, we don't make a bad cupcake. It makes me proud when I hear people brag that they've never had a bad one. Our bakery is set apart from most cupcake shops because of the wide variety of flavors in our case every day. With up to 18 flavors available on a given day, customers often have a hard time choosing the one they want. 'They all look so good!'' we often hear."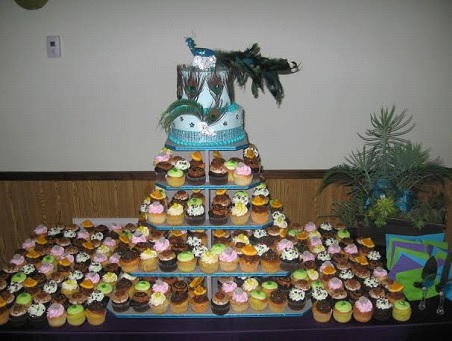 Q: I like the idea of having a smaller wedding cake above tiers of cupcakes. It seems like the best of both worlds. How do you keep it cohesive?
A: "I encourage brides when selecting a wedding cake along with cupcakes not be cohesive actually. They should definitely choose a cake design they like and that fits with their other wedding elements. After that though, let the cupcakes be cupcakes. Getting more than a couple different types and not decorating them all to match the cake provides such an impressive variety. With a beautiful wedding cake proudly on display and then plenty of cupcakes decorated as they are in my case, guests often stand in awe. Guests truly love variety! Choosing from 200 of the same cupcake isn't nearly as exciting. Many brides have thanked me for convincing them not to decorate the cupcakes like the wedding cake because their guests expressed to them how wonderful the selection was."
Thanks so much to Samantha for taking the time for this interview. Your experience, competence, and confidence truly shone through. You can read more about Cakes Etc. and see some of their beautiful confections on their vendor profile here at Make Some Plans.