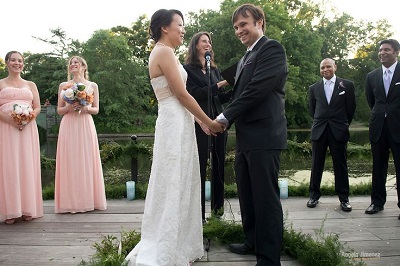 You're engaged! After the initial elation and excitement settle down, it's likely you've started to realize you have some things to figure out – a lot of things. Bride, check. Groom, check. Maids and men, check. The guest list is coming together, but there is still one important person you have to find. That person is the wedding officiant. You usually can't have a wedding without one.
Who Can Officiate
Fortunately, we have evolved beyond the "club her and drag her to the cave" era. Unfortunately, this evolution includes bureaucracy. States require more than just a witness or two. There needs to be a wedding officiant.
If you are a regular member of a church, synagogue, or other religious institution, you may have a good idea of who can perform this role for you. If you're not religious though, it can seem a daunting task. Many brides to be are a bit lost as to where they should even begin.
In most states, any generally recognized member of the clergy of any faith can perform marriages. Civil officials, like a judge, court clerk, justice of the peace, Native American tribal chief, or mayor, can also do this for you. Contrary to urban legend, no state authorizes ship captains to perform ceremonies though.
Some states, like California, allow anyone to apply for a special one-day only permit to act as a wedding officiant for family or friends. Other places, like New York City, have additional requirements to verify the ordination of the officiant, that can make things more difficult. This website can help you determine the requirements for the state in which you'll wed and who may officiate.
Tip: Some states require the wedding officiant to be a resident of the state in order to perform the ceremony. So check!
What Does the Wedding Officiant Do?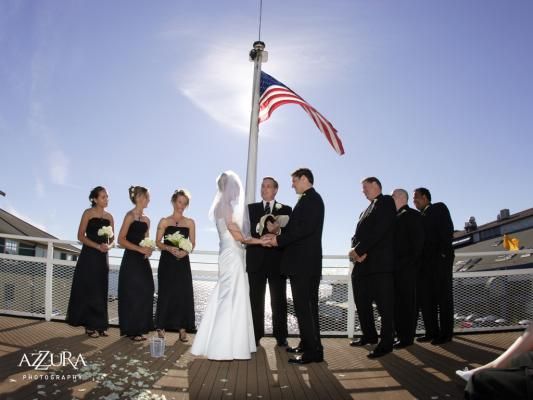 Unless you are inclined to religious customs or certain traditions, the officiant does not necessarily actually have to lead or perform anything. Again, state laws vary, but minimally he or she can merely serve in the capacity of a special witness. They are responsible for mailing in the paperwork to the state registrar, verifying the marriage has taken place.
In order for that document to be successful, both the bride and groom must be present and obtain their own affidavit or license at the county clerk's office (you can expect to pay a fee for this.) Failure to send the certificate or affidavit in a timely manner can make verifying the marriage more difficult.
The wedding officiant will check and verify the following:
That the couple has waited the proper time between the issuing of the license and the time the ceremony is performed.
As licenses can expire, they will check to see the ceremony is occurring within the proper time frame.
That the license is valid for the location in which the ceremony is being held.
Churches, denomination, or clergy may have additional requirements or policies to which you will need to adhere. Some may require premarital counseling, for instance. You should also expect to pay for the wedding officiant's time.
Where to Find a Wedding Officiant
If you don't have clergy you feel comfortable contacting to perform your ceremony, you can schedule with a judge, a judge's clerk, or justice of the peace. Make sure you begin this process well in advance of your scheduled wedding date.
If you are interested in having a friend or family member officiate your wedding, there are online options which will ordain individuals to perform a wedding. Remember to check your state regulations regarding officiant credentials first.