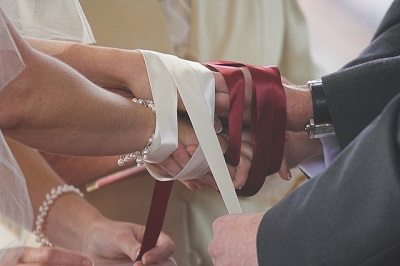 In light of the upcoming holiday, I thought it would be fun to delve into some traditional Irish wedding customs. Some of you may even be thinking of St. Patty's Day as a potential date for tying the knot. Speaking of which, did you know that "tying the knot" is an ancient Irish custom where people literally tied a knot to seal their marriage vows?
It was customary during an Irish wedding ceremony for the couple's hands to be brought together and then tied with ribbon, cord, or rope. Of course, customs change over time. If you don't want to be so literally bound together you can always just appreciate the metaphor.
'Tis No Blarney!
Ah, the luck of the Irish. Superstition is very Irish. You weren't supposed to get married in the fall or you would spend your whole life gathering. It was bad luck to be married on a Saturday. The wedding party was not supposed to use the same route as a funeral. The bride and groom are not supposed to wash their hand in the same sink. The list goes on.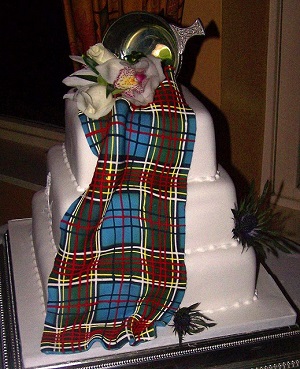 One custom that is still fairly common in Celtic culture is the horseshoe symbol. Back in more agrarian centered times, full horseshoes were used for largely the same reason as you see them used today. Namely, placed over a door for good luck. Brides today may incorporate the symbol in some different way, like incorporating it into her bouquet. Luckily, over time it has become common practice to have a smaller, tasteful version as a symbol rather than the original bulky and heavy hunk of metal.
Did you ever notice the use of bells in wedding décor? Sometimes they are like church bells, but often they harken from Irish wedding roots. Ringing small bells at weddings was supposed to ward off evil spirits. Some brides have sleekly incorporated this particular symbol in the form of wedding bell jewelry for the bridal party.
Something Old, Something New …
Arguably the most iconic piece of romantic regalia associated with the Irish is the fainne Chladaigh or Claddagh ring, in it's current form. This symbol dates as far back as the 17th century and is based on an even earlier Roman custom. To the ancient Romans, the symbol of joined hands indicated the creation of a covenant. During medieval period tiny finger rings bearing the symbol were given as symbols of engagement. Then we have the Claddagh.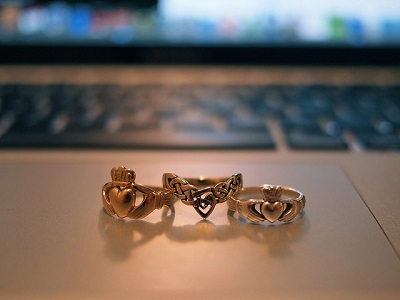 They can be inherited, passed down from one generation to the next. The ring is said to represent love, loyalty, and faithfulness. While they are often given as engagement rings, they can also make interesting alternative wedding bands. There are different customs also for wearing it which are given different meanings.
When it comes to Irish wedding fashion, lace is the way to go. The standard gown color was blue once upon a time, but modern bridal fashion in Ireland is not much different than the rest of the world these days. If you're looking to break up the white, green and gold are national colors and can be used in handbags, handkerchiefs, or wedding party colors.
Other nuptial customs that remain en vogue on the Emerald Isle include wearing kilts, bagpipe bands, Guiness, Celtic dancing, and traditional foods. Corned beef, cabbage, and soda bread might be on the Irish wedding menu.
A Full Cup
It is probably no surprise when speaking of Irish wedding traditions that we would eventually turn to the subject of imbibing and toasts. Their customary drink may surprise you though. It's not whiskey or Guiness – it's good Irish mead. The traditional wedding toast is given over a glass of the honey-based fermented drink.
By ancient tradition the newlyweds would be thoroughly supplied as a wedding gift. Indeed, they were given enough to sustain themselves on the sacred drink for the entire month following the wedding. This was done to ensure fertility and a happy beginning. It was known as the "Month of Honey." As you may have guessed, this is where the term "honeymoon" derives from.
There is no shortage of popular, poignant, and pleasant Irish wedding toasts. Here's a sampling:
May your pockets be heavy and your heart be light.
May good luck pursue you each morning and night.
May the roof above you never fall in,
And those gathered beneath it never fall out.
May God be with you and bless you.
May you see your children's children.
May you be poor in misfortunes
and rich in blessings.
May you know nothing but
happiness from this day forward.
(Most Famous)
May the road rise to meet you.
May the wind be always at your back.
May the sun shine warm upon your face;
The rain fall soft upon your fields.
And, until we meet again,
May God hold you in the palm of his hand.
Image Sources: Holding Hands Irish Wedding Cake Claddagh Rings