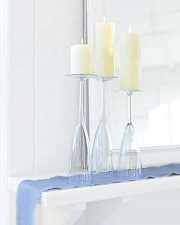 It is both easy and fun to go a little overboard adding things to our wedding registry. We can totally imagine ourselves hosting elegant dinner parties for 16 complete with crystal glasses and bone china. Of course, this was all expertly prepared with a standing mixer and pasta maker in our giant kitchen, right?

Meanwhile, back in reality, many of us don't have the luxury of tons of counter space and kitchen storage. Maybe we do, but can't stand clutter. It's absolutely acceptable, and even encouraged, to add some high-end and somewhat impractical items to your wedding registry. If space is an issue for you at all though, consider these items that can serve double duty.
Melon Baller
This unassuming kitchen utensil can accomplish myriad tasks and is also a nice add-on or lower-price option for those guests who really want to bring a gift but are unable to drop big dollars. They are great for times when a knife is too unwieldy and a spoon too flimsy.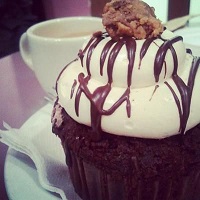 Sure, it turns melon into fanciful and easy to consume balls, but did you know a quality melon baller also is great for:
Coring apples

Creating the perfect size meatballs

Scooping out cupcakes to fill with ganache or other filling

Hollowing out vegetables for stuffing

Scoops of butter or ice cream, to take the mundane to fancy
Cake Stand
A domed cake stand from your wedding registry is a pretty way to both present and preserve a cake. For me, I was unsure if the amount of use I'd get out of a cake stand was worth the large storage blueprint. The same issue came up when considering a punch bowl.
Here's the genius: the right cake stand can also make a great bunch bowl (or even chip bowl.) Just flip it over!
Casserole Dishes
Two words: stackable and attractive.

Casserole dishes which you like the look of can go right from the oven as serving dishes as well. Thus eliminating both the need for as many serving dishes and extra dishes to wash. I'm going to assume that "stackable" doesn't need an explanation.
Wine Glasses
Stemmed glassware comes in a bunch of designs, shapes, and sizes. While it may seem overwhelming to keep the appropriate type of glass for each occasion, it may help to know that those wide mouthed red wine glasses can still serve a purpose while your dainty champagne glasses are being used.
Besides sipping, wine glasses can be used as:
Candelabras – tip them upside down and place a votive on top.

Fill them with pebbles and place a tea light inside

Add a small lampshade to the above for super cute accent lighting

Don't feel obligated to save them for special occasions or alcohol. Serving juice in a wine glass at breakfast or ice water at dinner is a nice, and easy, touch.
Cocktail Shaker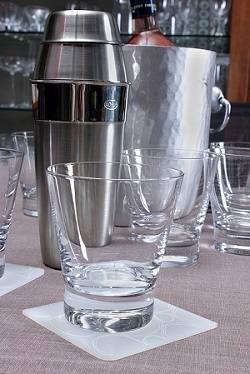 People love to buy cocktail sets for the newly married couple and why not? They scream fun and hip. Even if you're not juggling bottles and and catching shot glasses from behind your back like Tom Cruise in Cocktail on a regular basis, they are fun to have around.
Those times when you shake, not stir, a martini for your spouse or friend are not the only time you'll use this contraption though. They're absolutely fantastic for beating eggs! It's also a good way to turn this morning's room temperature coffee into this afternoon's iced coffee.
Metal Colander
This unassuming item can be added to your wedding registry with zero guilt. Sure, it drains pasta. It also works as a vegetable steamer by placing it in a pot with an inch or two of boiling water. You can get some triple duty action from a metal colander by using inside an ice bucket. As the ice melts, it drip through the colander so only actual ice is left rather than a watery mess.
It's fine, and even advisable, to use your wedding registry to splurge on items you wouldn't necessarily buy for yourself. Luxurious sheets and rich, thick towels are fantastic ideas for your registry. If your gauging your list based on use and/or space though, give the items above another thought.