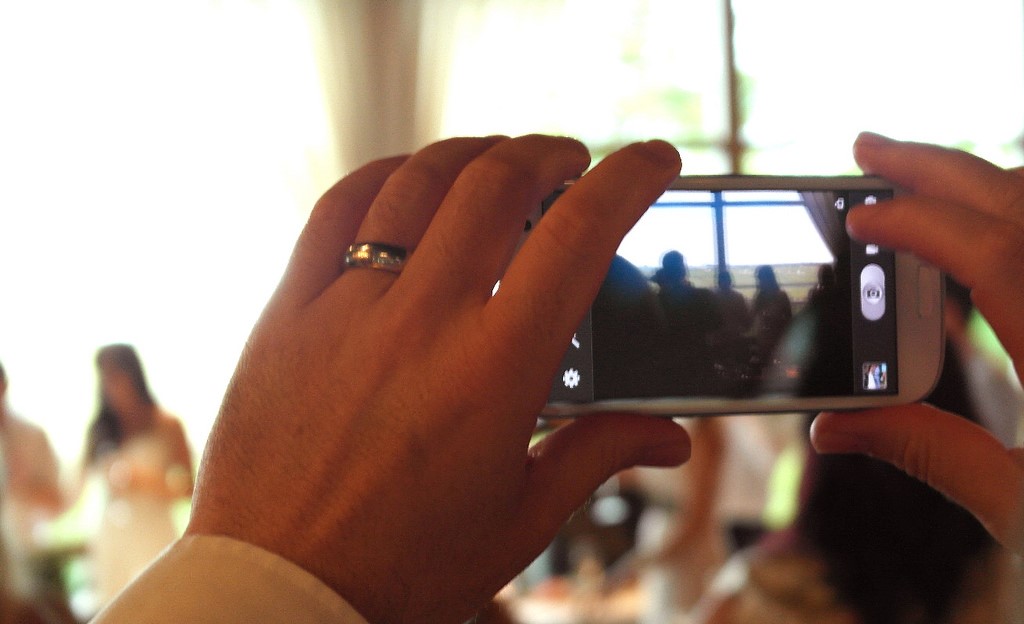 Everybody has a smart phone these days. The debate on how they relate to your wedding is a heated one. This is mostly due to every argument being seen as a pro or a con depending on who you ask. When deciding on how to handle phone etiquette at your wedding, here are some things to consider:
Check With Your Photographer
Most importantly, make sure they do not have a clause in their contract prohibiting other photographers. Just because your aunt is using her smart phone to snap a shot, does not negate the fact she is, technically, acting as a photographer.
Even if your photographer is not quite so picky, they very well may state that any other pictures taken during critical wedding moments void any of their guarantees or warranties. If your enthusiastic guest pops up in front on your photographer right at your first dance dip, you'd better hope said guest captures the best snap shot ever.
Well behaved guests can also unknowingly spell disaster for your photographer and wedding photographs. One pro I spoke with explained that the very special first kiss shot was ruined when a guest snapped a shot with his phone. This was not due to physically blocking the photographer. Rather, the flash caused the image to be overexposed. A ruined image is a ruined image, and those moments only come once in a lifetime.
Let's Be Candid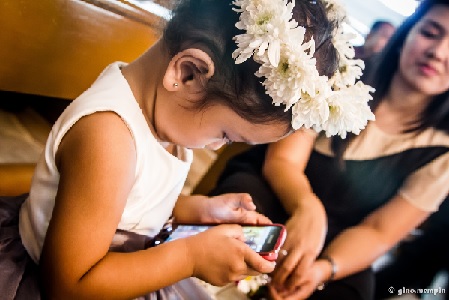 Even a team of wedding photographers is unable to capture every moment with every guest. Some of those candid snapshots from a guest's phone may well be among your favorites. We can't be with each of them throughout the wedding, so it can be a lot of fun to see your wedding through the eyes of many guests.
Consider a happy compromise. Ask guests to refrain from using their phones to take pictures at your wedding during traditionally iconic wedding moments, like the first kiss, first dance, cake cutting, etc. At the least, you'll want to be sure they don't use a flash if you want your professional photos to come back well. Off set this by encouraging them to shoot away the rest of the time, especially at the reception.
With This Ring …
Your meeting was destined. The proposal pure magic. Your wedding planned to perfection. The big moment is finally upon you. Pledging your eternal love in front of those most important to you, and now the groom may kiss the … Super Mario ringtone.
It may seem like common courtesy for guests to turn off or silence their phones at your wedding. Surely, if it's expected at the movie theater it should be expected at your ceremony. Here's the thing though, people will forget.
It is very unlikely that anyone you invite to your wedding would be purposefully rude. Do take it upon yourself to give some very clear and obvious reminders to your guests to turn off or silence their phones.
A sign at the entrance. A note in the program. An announcement before the ceremony. Trust us, done humorously or tactfully, it really cannot be stressed enough. They do say many people need to hear things three times before they really hear it.
Image Sources:
https://www.flickr.com/photos/amy_wphotos/9639081710
https://www.flickr.com/photos/ginomempin/8249175667