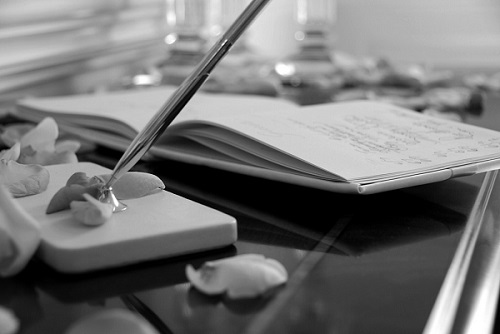 A wedding guest book is a treasured keepsake. Many couples cherish their guest book and revisit it often. Personal messages from loved ones sharing in the most important day of your life are truly priceless.
While there is nothing wrong with a traditional guest book, maybe you are looking for something that more uniquely represents you as a couple. Perhaps you'd prefer something that can be hung on the wall and displayed as opposed to placed on a shelf or the coffee table. If so, here are some alternative wedding guest book ideas.
Plates and/or Serving Dishes
Grab some metallic markers and plates or a serving dish and let your guests share their signatures and well wishes. These make a beautiful display on a wall, or a china cabinet full of love.
If you'd rather ask guests to sign plates or dishes you can use, make sure to get food-safe markers. There are plenty of ceramic dishes ready for personalization which only need to be baked for a bit to be ready and safe for use. A fantastically useful reminder of your special day and loved ones.
Pinata Filling
Choose an empty pinata and provide slips of paper for your guests. Explain that you will be cracking open said pinata on your first anniversary and ask them to leave their messages. This lends some extra romance and excitement of your wedding day to your first anniversary. The slips of paper can then be arranged in whatever form you choose as a keepsake with more longevity.
Baseball Bat, Surfboard, Volleyball, Scuba Fins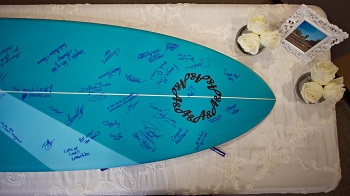 Nearly any activity which brought you together or that you enjoy as a couple can be used as a great alternative wedding guest book. Guests will enjoy the novelty of leaving messages on such items, and you will relish the combining of your wedding day and favorite activity.
Rocks
Smooth stones make perfectly charming surfaces for guests to make their mark. Gather some from your favorite picnic locale, your parents backyards, or just buy them inexpensively. You can use a spray sealant on them to keep the sentiments clear for longer or extend their legibility by using them inside in clear vases.
Quilt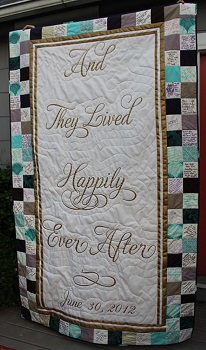 Select an simple quilt or one with a very light pattern and let your guests go to town with fabric markers. Whether hung on the wall or laid on a bed, quilts are easy to display as a daily reminder of your wedding day and the touching messages left by guests.
To make it even more special, consider making the quilt from fabrics which hold meaning. Remnants from each of your childhood blankets, special occasion garb, or parents wedding attire are just some ideas.
Jenga Set
All those wooden pieces in this classic game make for wonderful signature slates. Indulging in an evening of competition with your guest book Jenga set is as meaningful as it is fun.
Wine Corks
For a vino loving couple, asking guests to sign corks is the ideal alternative wedding guest book. As a keepsake, they make an attractive and interesting decoration when placed in a hurricane vase.
Ceramic Tiles
If you are handy, or outsource for that matter, asking guests to sign tiles might be a wonderful option. After the wedding, you can use the tiles as a kitchen back splash or the master bathroom wall.
Nearly anything which makes up part of your identity as a couple can be used as a quirky guest book in some way. Just think outside the book.
Image Sources:
https://www.flickr.com/photos/blythscottphotography/2657234946
https://www.flickr.com/photos/30691679@N07/8872813796
https://www.flickr.com/photos/dana-k/7687898956